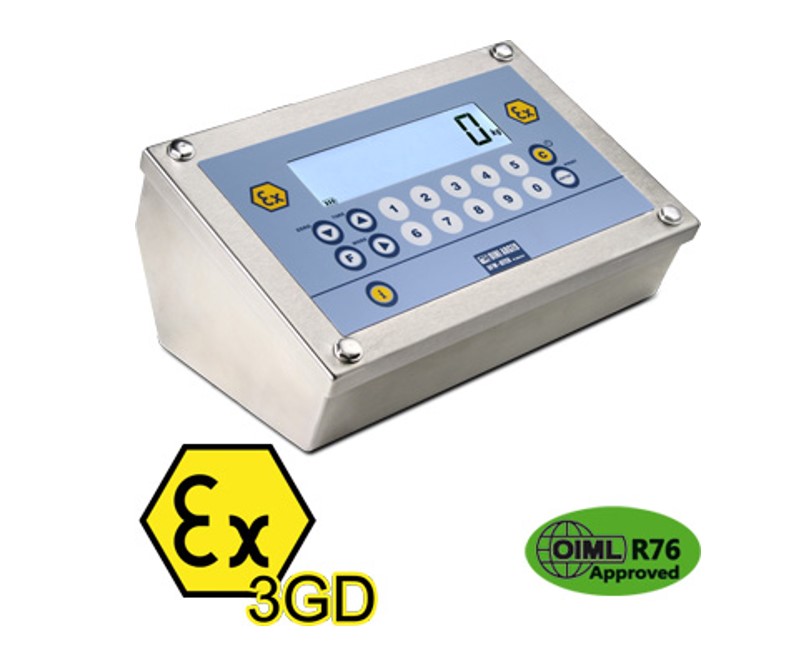 OUR PRODUCT / CARDINAL® WEIGHT INDICATORS
Weight indicator for areas classified as hazardous with protection methods according to:
ATEX II 3G Ex nR IIC T6 Gc X for gases
ATEX II 3D Ex tc IIIC T85°C Dc IP68 X for dust.
Ideal for creating weighing systems, batching, and automation systems. CE-M approvable (OIML R-76 / EN 45501).
MAIN FEATURES
Waterproof 17-key functional keypad.
Backlit LCD display with 6 25-mm high contrast digits and with indication of active functions.
IP68Satin finish stainless steel case.
Suitable for use on the table, or wall.
Dimensions: 264x174x115mm.
Up to 10.000e or multirange 3 x 3000e @ 0,3 µV/e in CE-M approved version for legal for trade use.
Up to 1.000.000 displayable divisions for internal factory use.
Up to 8 signal linearization pointswith DINITOOLS (3 from keypad).
Internal resolution up to 3.000.000 points.
A/D 24-bit sigma-delta conversion, up to 200 conv./sec. autoselect.
Board protection case inside the box.
Digital calibration and set-up from keyboard.
Instrument management & configuration from PC with DINITOOLS.
4 channels (for single weighing system).
Power supply:
DFWATEX3GD:through 110-240Vac internal power adapter (optional power supply cable);
DFWATEX3GDB: through optional external battery (BP6ESTATEX3GD code), rechargeable in safe area. Battery charger not included.
Connection with up to 8 load cells with 350 Ohm input resistance.
FUNCTIONS
KEYBOARD:
Zeroing, Automatic tare, Presettable tare, printing and/or data transmission, selectable function command, on/off switching, database of 20 tares, 2 Numeric IDs, keyboard lock, repetition of last printout made.
SELECTABLE FUNCTIONS:
– High Resolution Weighing x 10.
– Net/Gross or lb/kg conversion.
– Accumulation.
– Formula weighing.
– +/- Checkweighing.
– Percentage weighing.
– Approved transmission of the weight to PC/PLC (with Alibi memory ALMEM option).
– Counting(Max. resolution of 1.500.000 divisions).
– In/Out Truck weighing.
– Hold.
– Set Point Control (with DFIO option).
Need Help?
Tank/ Silo Weighing System
Bench Scales, Counting Scales & Floor Scales