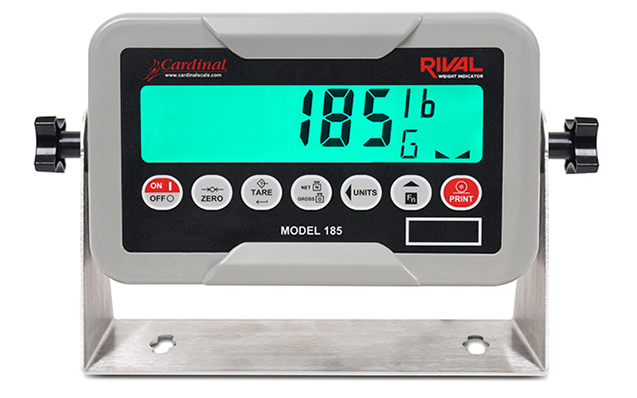 OUR PRODUCT / CARDINAL® WEIGHT INDICATORS
Cardinal 185 is a high-quality, economical durable weight indicator with bright green LCD for easy viewing. It is ideal for bench scales used in commercial foodservice and general weighing applications, warehouse and distribution facility floor scales, recycling and outdoor materials weighing and industrial vessel weighing where high visibility is beneficial.
Features:
Bold 1-inch/25 mm high backlit LCD
Attractive molded ABS enclosure built for durability
Stainless steel mounting bracket included
lb, oz, kg and g weighing unit
ability to drive up to four 350 Ω load cells
Built-in, bi-directional RS232 port for printing or connection to PC
Made in USA
Need Help?
Tank/ Silo Weighing System
Bench Scales, Counting Scales & Floor Scales