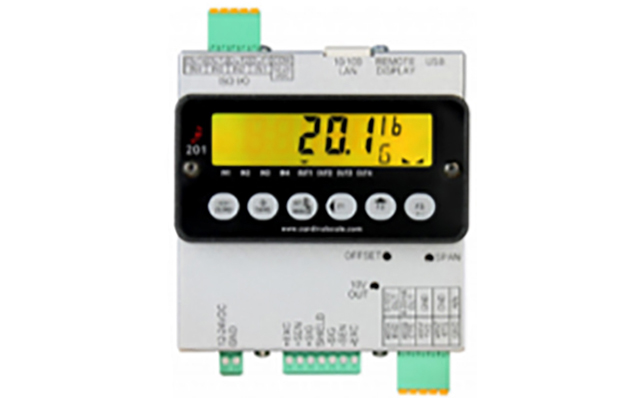 OUR PRODUCT / CARDINAL® WEIGHT INDICATORS
Cardinal® 201 Weight Transmitter
The 201 weight transmitter is a fast, accurate instrument for process control-based static and dynamic weighing applications capable of powering up to eight 350-ohm load cells and comes with a 35-mm DIN rail mounting bracket.
Features:
Excitation voltage: 12VDC-24DVC @6W
Listed accessories: The weight transmitter is intended to be used with Listed Information Technology Equipment
Enclosure rating: IP-20 DIN Rail 35mm, mounted in customers enclosure with optional remote display mounting
Enclosure size: 4-in W x 4.2-in H x 1.9-in D without connectors. (101.6-mm W x 106.7-mm H x 48.3-mm D)
Operating temperature: 14 to 104 ºF (-10 to +40 ºC)
Sensitivity: 0.5 uV / scale division
Resolution: 10,000 divisions
Serial interface: Bi-directional software selectable RS232 (50ft/15m up to 19.2k baud) OR RS485 (Modbus RTU) – 3,300ft/ 1000m, 24 AWG shielded and twisted cable
USB: 5-pin mini USB device
Ethernet: 10/100 Ethernet (DHCP, TCP/IP, Embedded Web Page, Modbus TCP, Ethernet IP)
Inputs: 4 Isolated inputs, 12-24 VDC current sink
Outputs: 4 Isolated outputs, 12-24 VDC current sink
Analog inputs: Software selectable non-isolated 0-10 VDC or 4-20mA DC
Analog outputs: (1) Non-isolated 0-10 VDC output (12 bit, 2k ohm min.) – (1) Non-isolated 4-20mA DC output (12 bit, 450 ohm max.)
Approvals: Class III NTEP and Class III Measurement Canada
Made IN USA
Need Help?
Tank/ Silo Weighing System
Bench Scales, Counting Scales & Floor Scales